Carrot Oat Energy Bites Healthy Kids Snack
This recipe started for carrot oat energy bites started as a foray into healthy Christmas food ideas, but honestly these balls don't need to be kept for christmas time, so whether you have popped over to my site to find the reindeer food or to find a lower sugar nut free ball, do not panic. You are in the right place for both.
Carrot Oat Energy Bites The Background
When I was little we always left carrots out for the reindeer, and I am proudly continuing the tradition of chomping on carrots in the middle of the night to please my kids going! It was this tradition that was the launch pad for this healthy Christmas food idea, that and my never ending quest to make the perfect bliss balls.
I am constantly on the hunt for great lower sugar recipe ideas for my kiddos. I see bliss balls and energy bites everywhere, but for me, although yummy, many of them are still packed with sugar in the form of dried fruits. Don't get me wrong I am not saying they are all bad, I am just saying that sometimes they are really high sugar items masquerading as low sugar. When it comes to sugar our body pretty much sees it as all the same, you can find my common sense thoughts on sugar and kids in this article 
I took inspiration for this recipe from no bake carrot cake oat bites by  Super Healthy Kids. Super Healthy Kids is a fabulous source of brilliant kid food ideas! It is a lower sugar bliss ball due to the carrot component. I tweaked the recipe a little to have fewer ingredients and be nut free so that it can be sent in lunch boxes. I would also hate for one of Santa's reindeers to have a reaction to nuts on my watch!
To make this recipe you will need a sturdy food processor. It is not tricky by any means, but expect sticky fingers when you roll the balls, a great job for kiddos!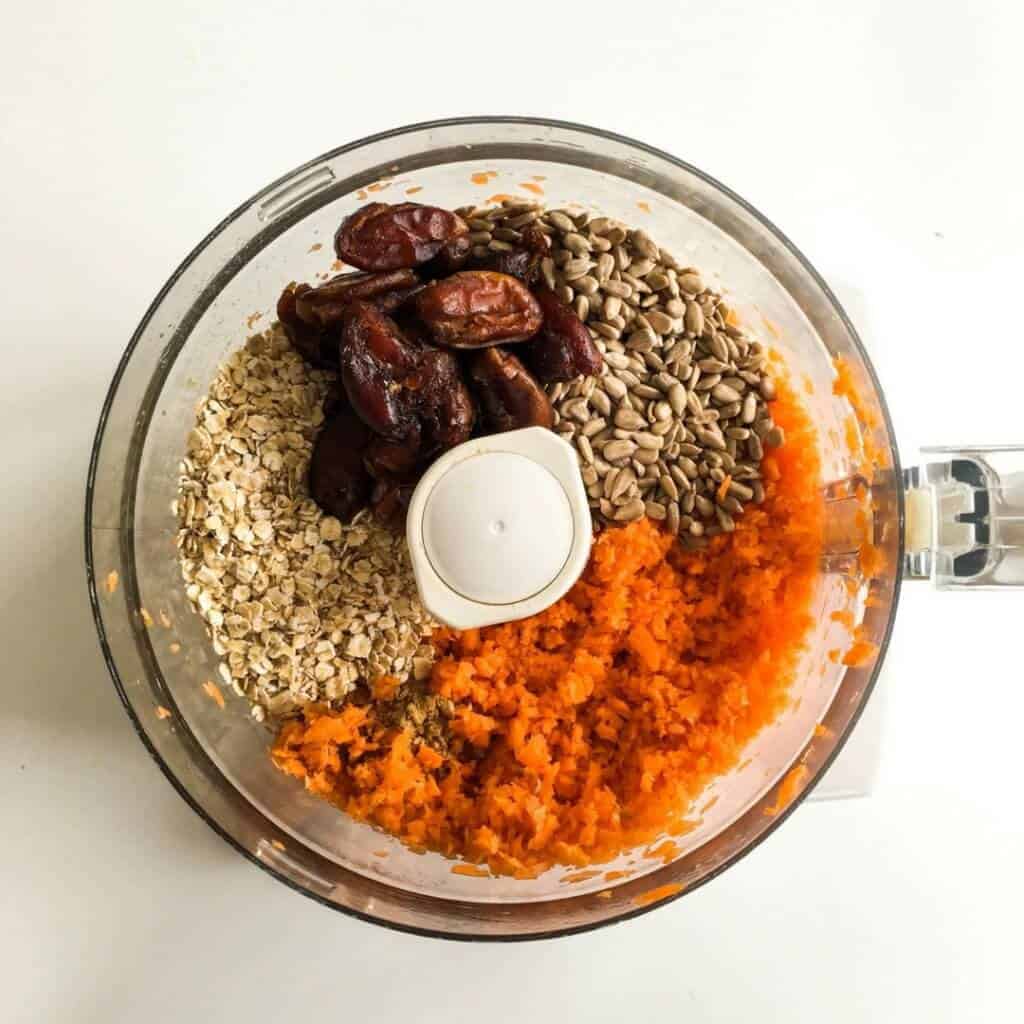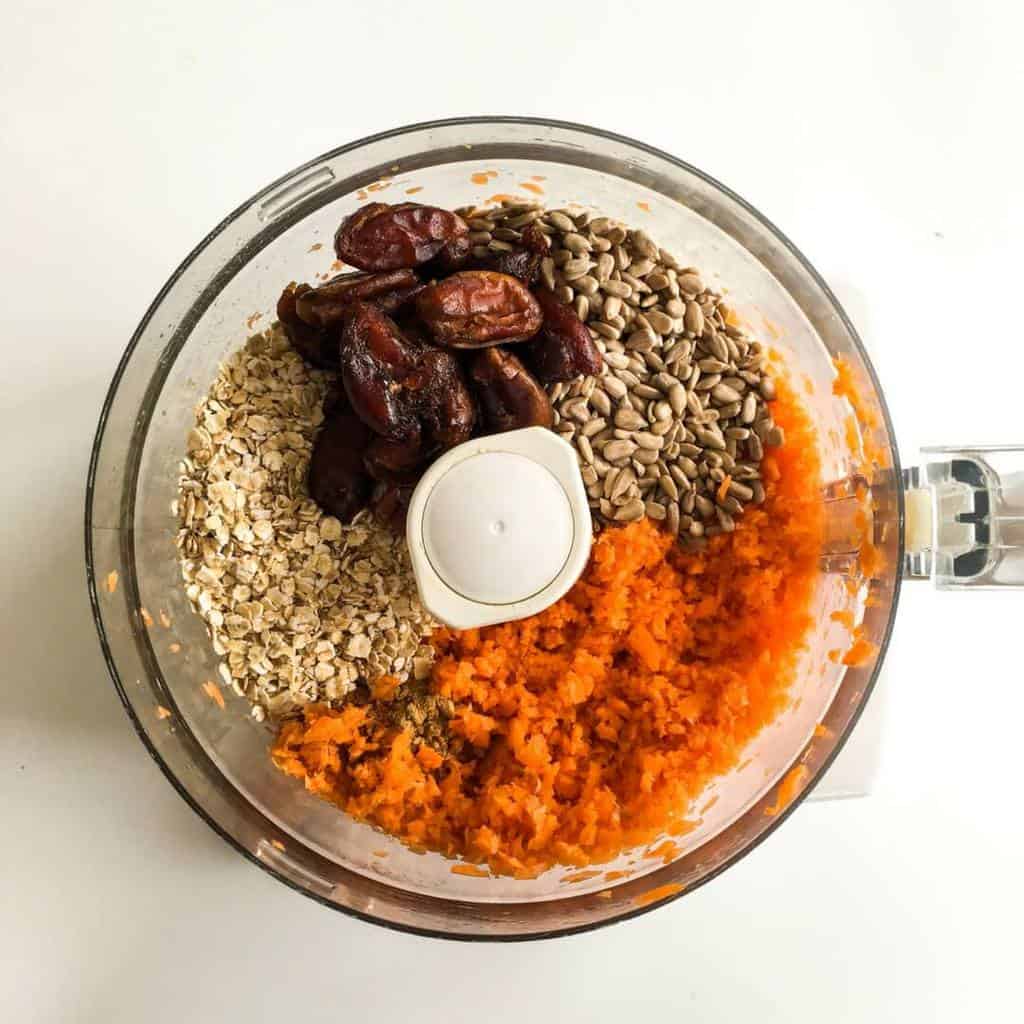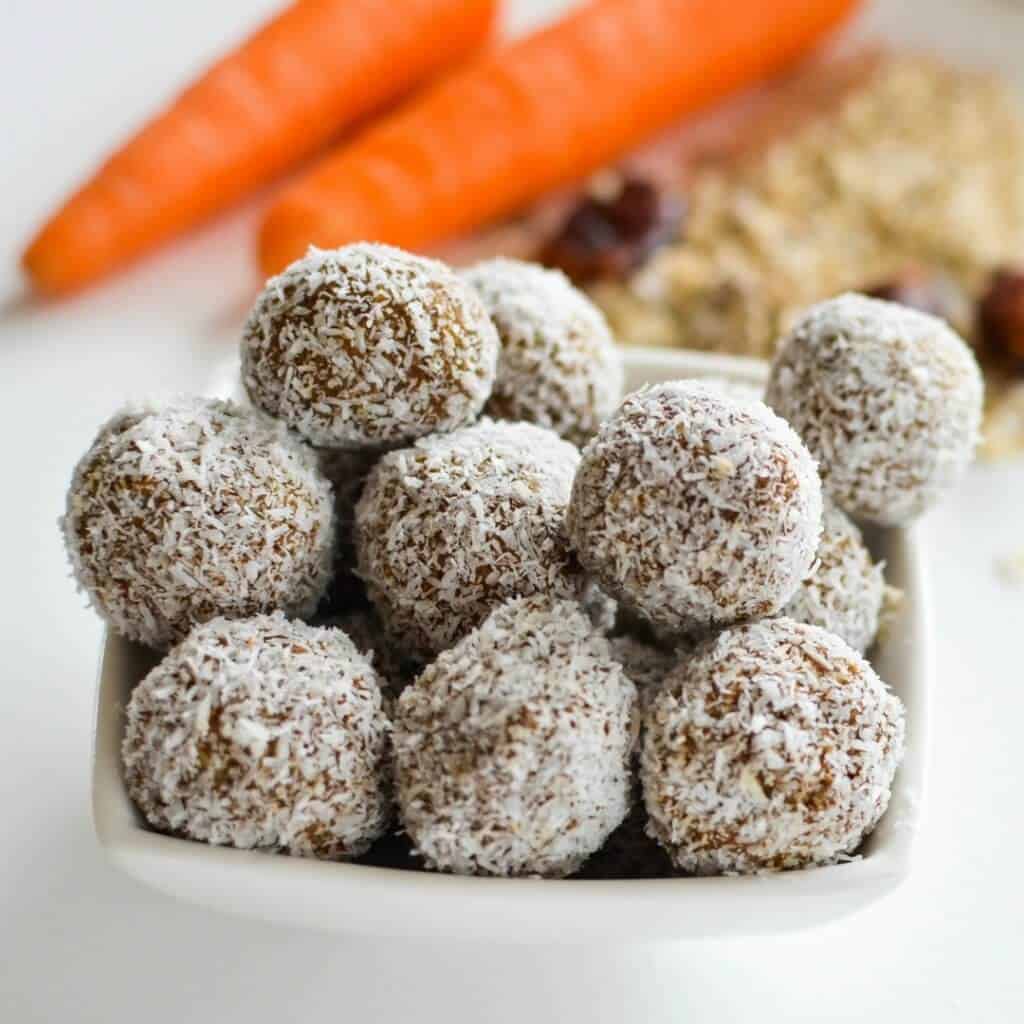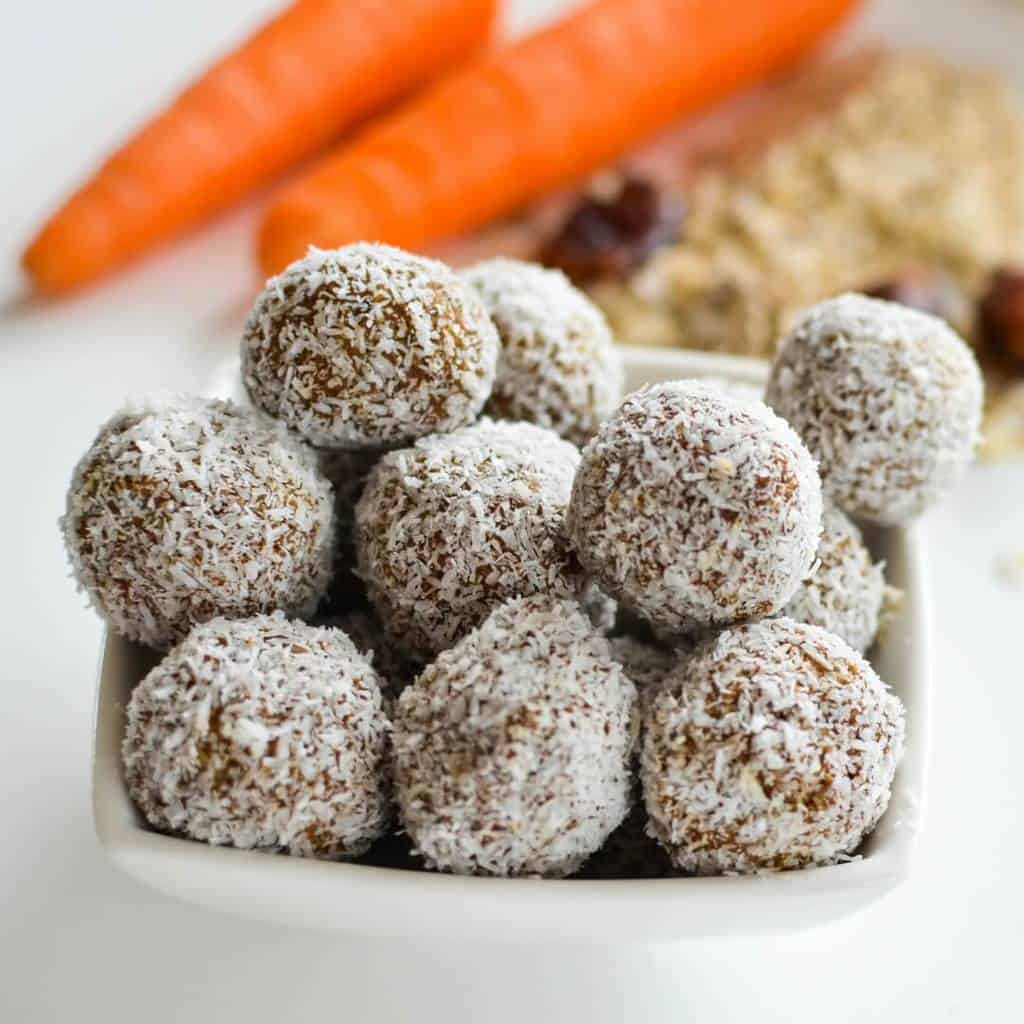 Carrot Oat Energy Bites Recipe Video
Carrot Oat Energy Bites
Yield 50 balls
Ingredients
3 medium carrots
1 Cup oats
1 Cup sunflower seeds
1/2 Cup dates
1 TBSP coconut oil or other light flavoured oil
1 tsp cinnamon
1/2 tsp  ginger dried
Desiccated coconut for rolling
Instructions
Place carrots in a sturdy food processor and blitz until very finely chopped
Add remaining ingredients, excluding the desiccated coconut and blitz until the mixture comes together into a large ball. This will take some time, 5 or so minutes of blitzing but be patient it will get there
Using a teaspoon form balls, the mixture will be quite sticky (becuase of the water content of the fresh carrot) , but the texture improves once you roll in coconut. Get the kids involved they will love the mess
Roll the balls in desiccated coconut
Refrigerate 
Notes
The balls will be quite soft when first made as the mixture is quite warm for them blitzing. Refrigerate for a good few hours and this will improve immensely. 
Technically coconut oil is a nut product, although coconut is significantly lower in allergenicity than other nuts. However to be entirely nut free opt for another mild flavoured oil
Courses Snack